Toreus Finance: Solving the user experience bottleneck in decentralized finance (DeFi) applications on Aurora and Kava blockchain platforms
Consulting, design, implementation of standard solution
Decentralized finance (DeFi)
Since its inception in 2015, Ethereum has played a pivotal role in ushering in a new era of decentralized finance (DeFi) and fostering the growth of innovative financial services, including lending dApps. Ethereum's breakthrough was the technology of smart contracts, creating a platform for software developers to build countless applications using blockchain technology.
Smart contracts are computer programs that automatically execute the terms of a contract when conditions are met. This allows transactions to be carried out without intermediaries, ensuring transparency, security, and speed. The advent of smart contracts opened the door to many new and breakthrough applications in the financial industry, such as Aave – a leading DeFi lending platform.
Aave has attracted the attention of the tech community and achieved much success by providing an ecosystem that allows users to lend and borrow various cryptocurrencies without intermediaries, creating a transparent, decentralized, and trustless financial ecosystem.
DeFi has brought many innovative opportunities to the financial industry, causing many organizations and individuals to seek solutions to leverage the benefits of DeFi. In this context, blockchain-based projects like Aave play a crucial role in driving change and shaping the future of the financial industry.
However, the development of DeFi also harbors challenges and barriers, especially for those not tech-savvy. Most DeFi applications today have a complex user experience and are difficult to access, making it not easy to use and take advantage of them. Specifically, understanding and using user interfaces in DeFi projects can sometimes be challenging and time-consuming for new users.
In this context, building user-friendly and easy-to-use solutions is essential for DeFi projects to reach a larger user base and become more widely popular. This is also the foundation for projects like Toreus Finance, aiming to provide a DeFi lending application based on smart contract technology and operating on Aurora and Kava blockchains, instead of Ethereum, with a simpler and more accessible user experience than Aave. Toreus Finance aims to help users effectively and conveniently leverage the benefits of DeFi and smart contracts.
In early 2022, our company was tasked with designing and building a user interface and user experience for the decentralized finance (DeFi) application Toreus Finance. Based on the characteristics and features that made the Aave application successful, we had to create a simpler and more accessible user experience.
The biggest challenge in this project was to overcome the limitations of user experience commonly encountered in the blockchain and cryptocurrency industry, especially in the DeFi field. This required deep industry experience, coupled with creativity and analytical thinking to provide a suitable solution for Toreus Finance.
In addition to being user-friendly, another important requirement in this project was to build this interface in a modular, scalable way, and easy for the smart contract developer team to integrate. This required us to combine deep understanding of blockchain technology, smart contract programming, and design thinking to create an effective solution that meets all the requirements and at the same time provides an excellent user experience.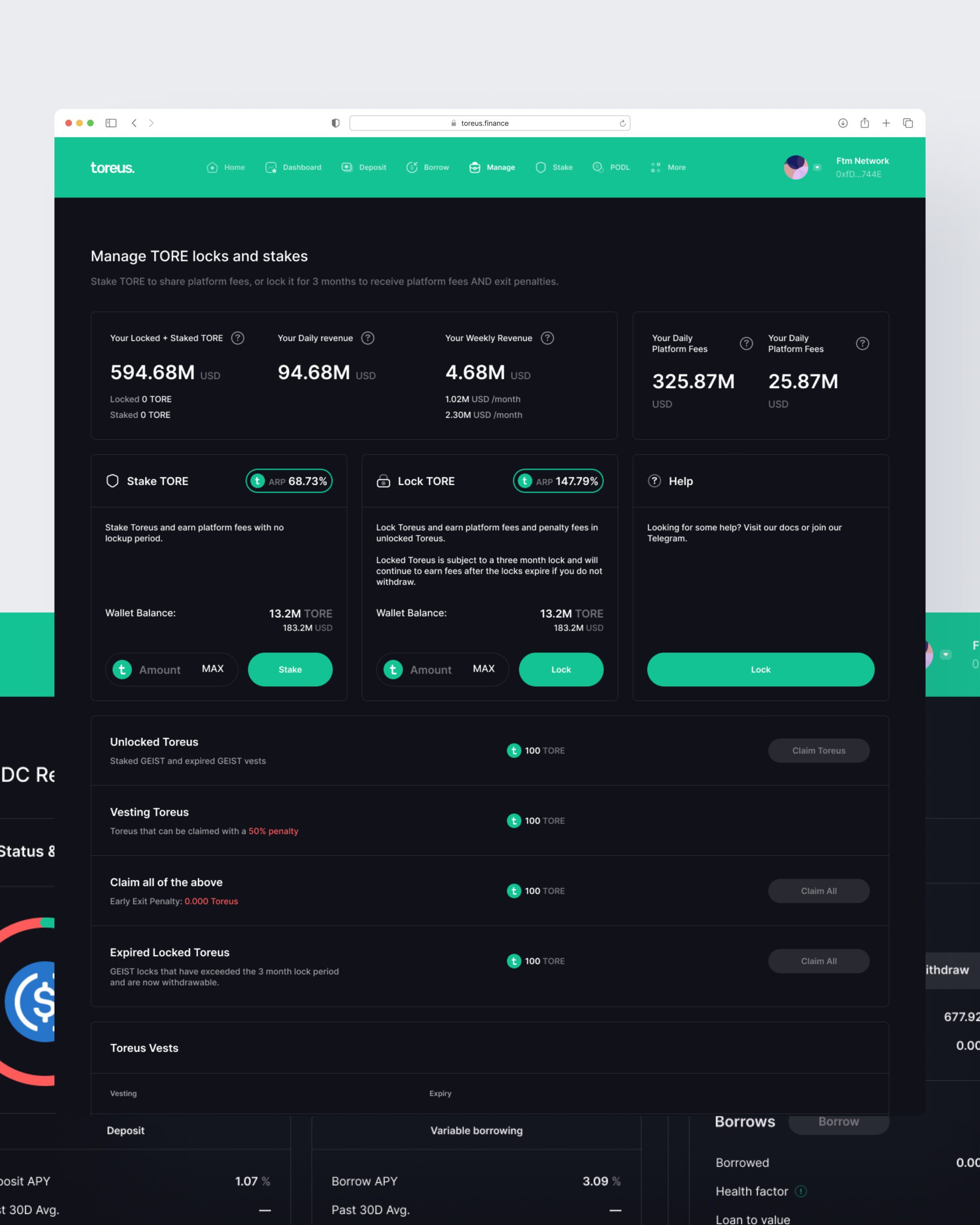 To address the project's requirements, our team conducted thorough research and analysis of trends and issues that needed to be addressed in the DeFi industry, as well as evaluated popular DeFi applications like Aave, MakerDAO, and Compound to provide a suitable solution for Toreus Finance.
We created an intuitive and user-friendly interface that allows users to easily access and use DeFi services on the Toreus Finance platform. The interface was designed based on modular, atomic design principles, allowing for easy expansion and updating of new features, while ensuring compatibility with the underlying smart contract features.
In addition, we focused on optimizing user experience by simplifying the process, reducing complex transaction steps, and providing clear, easy-to-understand instructions. This makes it easy for users to operate and effectively utilize DeFi services without encountering the usual barriers in the blockchain and cryptocurrency industry.
Thanks to the user interface and experience optimization solutions that our team has provided, Toreus Finance has reaped significant success. First, the application received attention and support from the community, attracting many new users to use DeFi services on their platform.
Another proud result is that Toreus Finance successfully received funding support from the Aurora Partner Program, providing the project team with additional resources to develop and expand their application. This support has demonstrated the potential and value of the Toreus Finance application in the DeFi industry.
This year, Toreus Finance continues to expand to the Kava platform and attract additional investment capital. The development and success of Toreus Finance has proven that our company not only helps customers solve core issues, but also contributes positively to the development of the blockchain and DeFi industry. With this result, we are proud of our role in creating value for customers and contributing to the development of decentralized financial technology.
Discover the value of comprehensive blockchain services
In collaboration with our global partners, we've empowered organizations to leverage blockchain technology, driving operational efficiency and innovation. We do this by offering a suite of services tailored to your unique needs.